'COVID-19 2nd Spike' Easy Sauce, Yvonne Jegede collaborate to educate people to cook, stay home this Valentine
With everyone looking forward to Valentine's Day, Easy Sauce, the indigenous company known for its savory African sauces and producers of the renowned Obe Sauce, has launched a campaign encouraging Nigerians to stay home instead.
This campaign is in light of the second wave of COVID-19 currently spreading across and ravaging the nation. With thousands of people already infected by the virus, the nation is pulling all stops to curb the spread of the virus.
As such, Easy Sauce is joining the fight by launching a hearty campaign to show lovers, friends and family that Valentine's Day can still be 'spiced up' at home. The two-pronged campaign will not only encourage Nigerians to stay home and stop the spread of the virus but will also educate them on how to whip up special recipes with Obe Sauce.
The company is launching this campaign on the 14th of February with star actress, Yvonne Jegede to show Nigerians how they can share love by cooking their Valentine's Day delicacies with Obe Sauce.
COVID may have ruined a lot of things but Easy Sauce is on a mission to ensure that it doesn't ruin Valentine's Day for lovers and families.
Iretiola Doyle berates Niyi Akinmolayan over 'influencer actors'
Nollywood actress, Iretiola Doyle, has knocked filmmaker, Niyi Akinmolayan, for criticising influencers who have delved into acting.
The Chief Daddy director had earlier berated "influencer actors", as he called them, for not going the extra mile to perform their movie roles.
He noted that such actors demand challenging roles but do not show up for rehearsals when the time comes.
The Anthill Studios founder tweeted, "'I want challenging role'.'I want challenging role'. Can you train for 3 weeks for free. No!!
"Can refuse other jobs for 2 months to be in character without being paid? No. So you see, my dear actor and critics who want challenging roles, challenging roles need challenging money.
"Ordinary table read, you will not show up, talk less of rehearsals. But you want challenging roles. Influencer actor lol"
Responding to the tweet, Doyle blamed producers for going after influencers rather than actors with talent and zeal.
She said, "Perhaps if casting is based on talent and the hunger to succeed as opposed to social media numbers and who is willing to push YOUR film aggressively (at no added cost), producers wouldn't have this particular problem."
Nkechi Blessing's ex lover, Falegan, not impressed by actress claim of monthly N1m allowance
Opeyemi Falegan, the ex lover of popular Nollywood actress Nkechi Blessing, has berated her for allegedly lying.
Nkechi Blessing had revealed yesterday, May 23rd, that an anonymous fan, who has refused to reveal his identity, has placed her on a monthly allowance of one million naira.
Reacting to this, in a now deleted post, honorable Falegan has berated her, claiming she's lying as he claims a lot of people date for survival.
He referred to the actress as 'cloutina' claiming that she'd say anything just to remain in the spot light.
See his post below:
"Most of you actually date for survival and not love. Lie lie lie everywhere. Lol Lol. Cloutina will say any rubbish to remain relevant. Always sounding hungry. Oma se ooo. Thank God, I dodged that bu*let."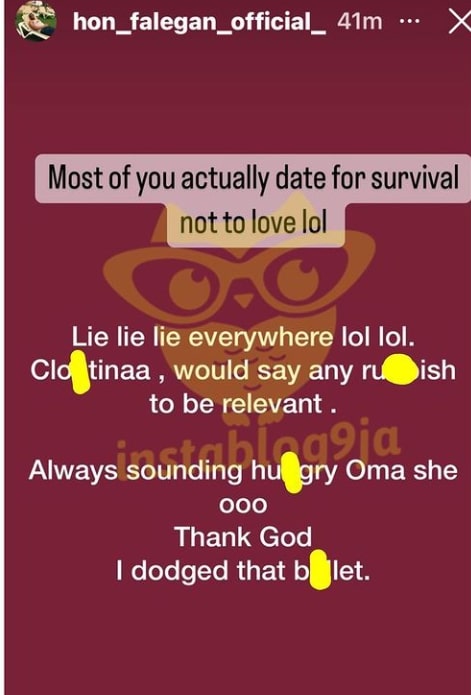 Kokoro: Lagos commissioner, Onipokia, Obateru, Atayero, Princess Kolade, others set to grace Olabisi Adeyemi's movie premiere
All is set for the movie premiere of Kokoro, a new film by BlingDiamond Concept, at the prestigious Blue Moon Events Centre, Lekki, Lagos, on May 21, 2022, as top paramount Yoruba monarchs, chiefs and crème de la crème of the Yoruba social circle, confirmed attendance.
Aside from the Lagos commissioner for Tourism, Arts and Culture, Uzamat Akinbile Yusuf Moremi, who is saddled with the role of keynote speaker at the event, among those also expected are the Onipokia of Ipokia kingdom, Oba Dr. Sola Adeniyi Olaniyan, Oshigin II; Obateru of Egbin Royal kingdom, HRM Oba Adeoriyomi Oluwasesan Abdul-Akeem Oyebo, and the Atayero of Aramoko Kingdom, HRH Olusegun Aderemi, who are the Royal Fathers of the Day, while the Yeye 1 of the source (Ile Ife), Princess Folashade Ogunwusi Fadairo is the Royal Mother of the Day.
The Chief Launchers of the Day are popular socialite and Iyalaje Oodua, Princess Toyin Kolade; the Akinsiku of Lagos (Olori Eyo), Chief Adebola Dosunmu and the managing director of Adebiyi & Son Nigeria Ltd, Elijah Adebiyi.
Kokoro, which was written and produced by Olabisi Adeyemi, is an intriguing story of love, betrayal and deceit. The movie, shot in undiluted and rich Yoruba language, promises to be very entertaining and highly educative.
According to the storyline, Olabisi Adeyemi tells a story of a family man who finds it hard to believe that his childhood friend and business associate is responsible for his family destruction.
"As you already know that, I just don't produce movies for the sake of it. I love my job and I always ensure I take my time writing the scripts in order to ensure that all ingredients needed to make a very good movie are not missing.
"And Kokoro is no exception. Aside from making sure the story is tight, best thespians in the Nollywood industry acted in the project," she said.
Other special guests expected at the epoch making event are the CEO of Zone 4 Energy Limited, Lara Olaniran; CEO of Midstream Food and Beverages Nig Ltd, Alhaji Abdul, Founder/Chairman MKH, Dr. Muibi Kehinde Hammed (MKH) and the founder of T Pumpy Concept Limited, Adaralegbe Akintayo.
The CEO Emachristher properties Limited, Olajide Ahmed Idowu; CEO, Zenith Carex, Adelana Olamilekan; CEO, Carllion Construction Limited, Bidemi Amusa; Hon Sultan Adeniji Adele and Hon. Desmond Elliot would also be present.
Fully subtitled in English, the movie features Olabisi Adeyemi herself, Akin Lewis, Saheed Balogun, Bimbo Oshin, Abiola Ajibike and Toyin Alausa.
Jide Awobona, Mustapha Solagbade, Habibat Jinad, Kunle Omisore, Bukola Olatunji, Kazeem Adeshina and others are also present.
Kokoro, co-produced by Olu Michael and directed by Saheed Abolaji Oscar, would be showing to an exclusive audience at the Blue Moon Events Centre with red carpet starting 1:00pm in the afternoon.
The full movie would be available on Apata TV Youtube channel after the event for general viewing.
"Kokoro is my fourth movie. I started movie production with the release of Okan Mimo, then Eni Ibi and followed by Ayami," she disclosed.
The movie premiere would be compered by Baba Tee and Mama Ajasco, Moji Oyetola.
Other side attractions at the movie premiere include music, dance and comedy with special appearances by the popular musician, Jide Harmony.