'Coming soon' Samuel Olatunji's Mimi to hit cinemas May 28 (Photos)
Mimi is coming. In cinemas nationwide from May 28th
Nigerian director, Samuel Olatunji is said to release his new movie, Mimi on the 28th of May 20201.
The movie maker also directed movies like seven and a half dates and Dear Affy
Chacha Eke announces split from husband, Austin Faani
Nollywood actress, Chacha Eke has yet again, announced the dissolution of her marriage on social media, revealing that she's done pretending.
Sometime in October of 2020, Chacha had taken to social media to share a video announcing the end of her marriage to her movie director husband, Austin Faani
At the time, she said,
"You will say I am crazy but I am not. This video is to let the world know that I am done with the marriage. I don't have a lot to prove that I am done with him but I am done. I'm done. I am leaving with my life finally. I can't say a lot now. You will hear my story."
However, only some days later, she shared a different video from a hospital bed saying she had been diagnosed with "Bipolar disorder", while debunking allegations that her marriage ended due to domestic violence.
She later shared another video where she stated she was still with her husband and that she would not leave her marriage. She then also addressed her brother, IK Eke, alongside former actresses, Georgina Onuoha and Victoria Inyama for getting involved in her marriage issue.
Well, in a post she shared on Instagram on Monday night, June 27, Chacha apologized to the public for "living a lie."
She went on to state that she's done with her marriage as she wrote;
"NOW ALIVE OR LEAVE AS A CORPSE

Many have died pretending all is well whilst wishing, hoping and praying for a better tomorrow.

I don't want to "die" or go inexplicably "missing".

I sincerely and publicly apologize for living a lie these past years.True to random speculations, there has been trouble in my "perceived paradise".

For the 2nd time in 2years, I am here again on social media boldly declaring that I am done with my marriage. My long overdue/relentless stance on this is of course no news to Austin Faani, the doctors and my parents.

If push comes to shove & suddenly i am incommunicado; my lawyers, the welfare department and the Nigerian police force have my testimonials in recorded video clips/statements set for public release on all social media apps and national newspapers.

Ps: old photo.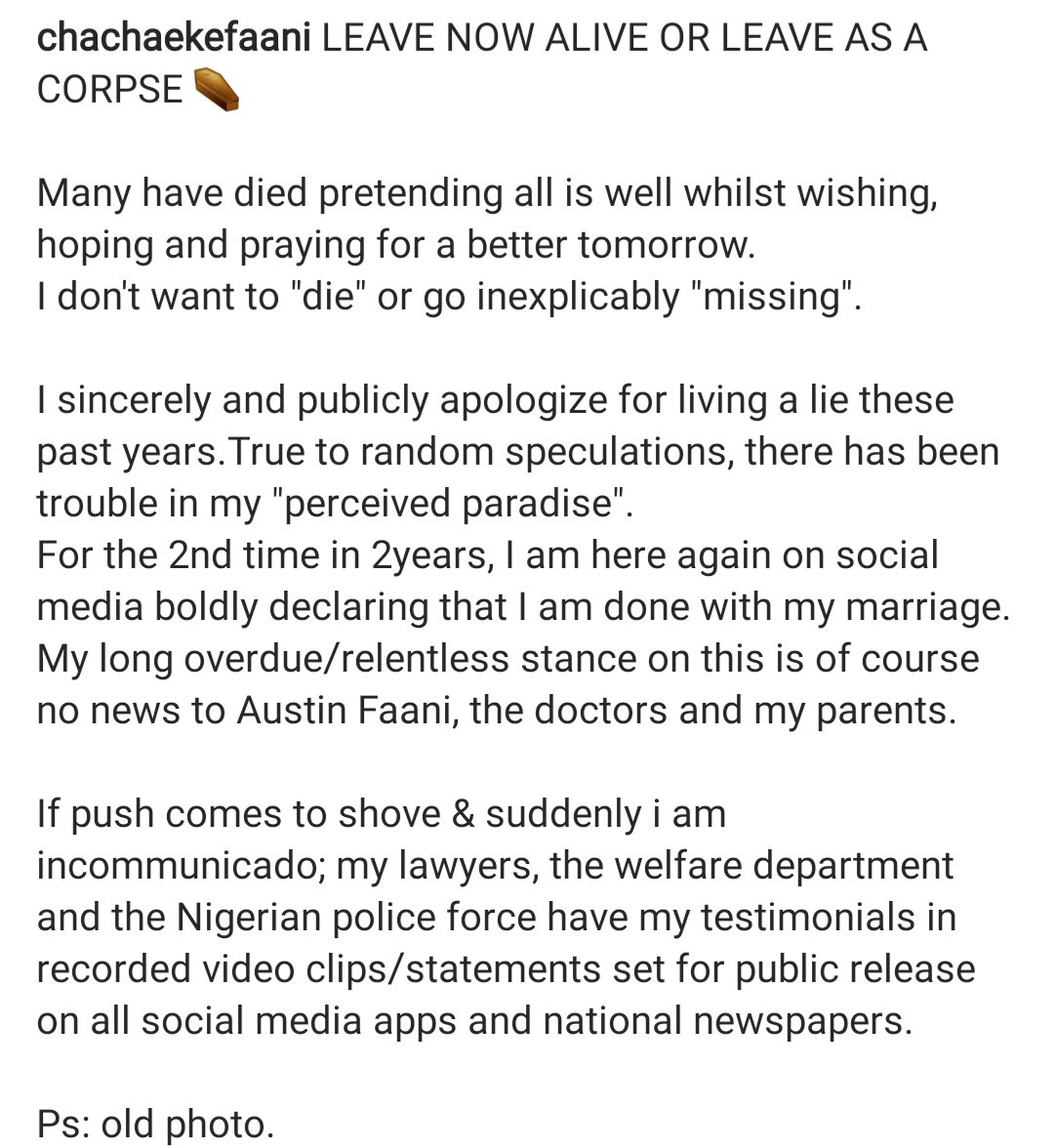 Uche Elendu blows hot over May Edochie's instagram sponsored advert
Nollywood Actress, Uche Elendu was caught clashing with fans who dragged her and misconstrued her comment on May Edochie's ad campaign.
Controversial Nigerian actor, Yul Edochie's first wife, May, recently shared a post advertising a tiles brand on her Instagram page.
SEE POST BELOW
May's post caught Uche Elendu's attention, as she took to her comment section and wrote "Number one".
Reacting, Some fans assumed Uche was referring to May as Yul Edochie's undisputed number one following his controversial marriage to Actress, Judy Austin.
Angered by their responses, Uche claimed her 'number one' comment isn't about May's marriage, the actress said she was referring to the brand she advertised on her page.
SEE COMMENTS BELOW
Not stopping there, another fan who misconstrued her comment, tackled Uche for linking May with Yul despite the Actor's betrayal.
In response, Uche lashed out by reteirating her reason for her comment on May's Instagram post.
SEE COMMENTS BELOW
Yul Edochie's first wife, May, reacts after a fan asked her to put up her account number for crowdfunding
May, the first wife of controversial Nollywood actor, Yul Edochie, has reacted after a concerned fan asked her to put up an account number for crowdfunding.
The mother of four received ample support from Nigerians on social media after her husband, Yul, announced his marriage to a second wife. While netizens berated the actor and his new wife, many also trooped to May's Instagram page to declare their love and support for her.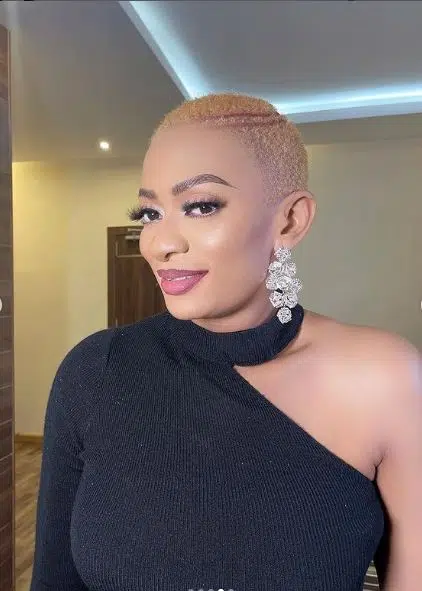 Recently, an Instagram follower commented on her latest Instagram post, stating that many people want to help her (financially) but don't know how to get the money to her.
The follower added that she had previously reached out to Tonto Dikeh for an account number where they could donate for May but never got a response. She went on to suggest that May share an account number online for crowdfunding.
The fan wrote,
"Queen May alot of people wanted to support you financially but they just didnt know how to send funds to you. l even reached out to tonto if she could post an account number on her page so people can send there donations because people love and trust her and we know she will deliver the funds to you but king tonto never responded back may if you cud put an account number here trust me you will be blown away how much fans are itching to support you pls think about it we love you May".
May, touched by the kind thought, simply thanked the fan in response.
"Thank you, she wrote.
See their exchange below,