Chacha Eke announces split from husband, Austin Faani
Nollywood actress, Chacha Eke has yet again, announced the dissolution of her marriage on social media, revealing that she's done pretending.
Sometime in October of 2020, Chacha had taken to social media to share a video announcing the end of her marriage to her movie director husband, Austin Faani
At the time, she said,
"You will say I am crazy but I am not. This video is to let the world know that I am done with the marriage. I don't have a lot to prove that I am done with him but I am done. I'm done. I am leaving with my life finally. I can't say a lot now. You will hear my story."
However, only some days later, she shared a different video from a hospital bed saying she had been diagnosed with "Bipolar disorder", while debunking allegations that her marriage ended due to domestic violence.
She later shared another video where she stated she was still with her husband and that she would not leave her marriage. She then also addressed her brother, IK Eke, alongside former actresses, Georgina Onuoha and Victoria Inyama for getting involved in her marriage issue.
Well, in a post she shared on Instagram on Monday night, June 27, Chacha apologized to the public for "living a lie."
She went on to state that she's done with her marriage as she wrote;
"NOW ALIVE OR LEAVE AS A CORPSE

Many have died pretending all is well whilst wishing, hoping and praying for a better tomorrow.

I don't want to "die" or go inexplicably "missing".

I sincerely and publicly apologize for living a lie these past years.True to random speculations, there has been trouble in my "perceived paradise".

For the 2nd time in 2years, I am here again on social media boldly declaring that I am done with my marriage. My long overdue/relentless stance on this is of course no news to Austin Faani, the doctors and my parents.

If push comes to shove & suddenly i am incommunicado; my lawyers, the welfare department and the Nigerian police force have my testimonials in recorded video clips/statements set for public release on all social media apps and national newspapers.

Ps: old photo.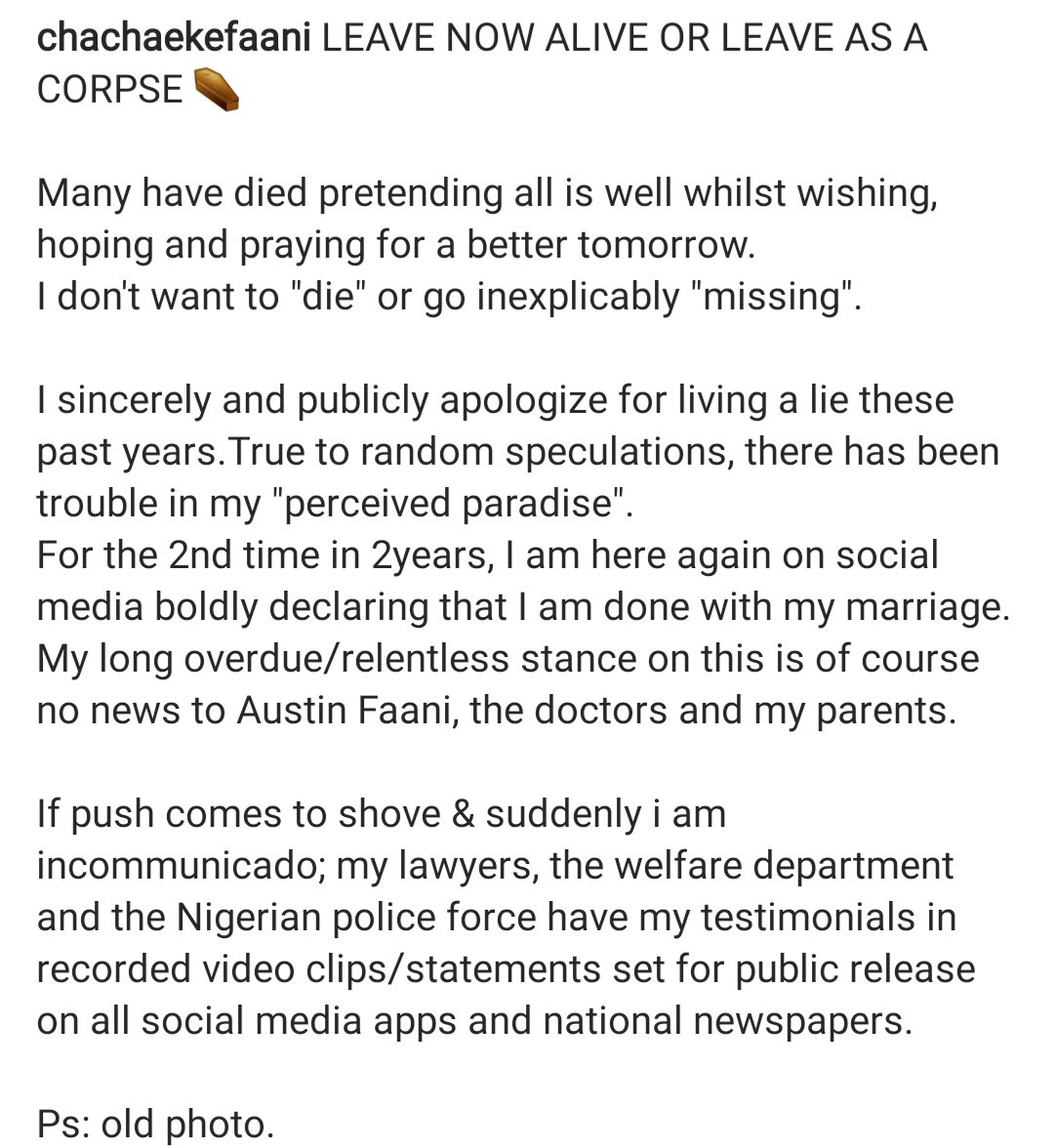 Eniola Ajao splashes N52m on ÀJÀKÀ'JÚ, drags Sola Sobowale, others to Oyo forest
Nollywood movie lovers are in for a big treat as Award winning actress and producer, Eniola Ajao, has raised her game with the production of what many expects to be a masterpiece judging by the quality of minds on the project.
The just completed project "Beast of two worlds – ÀJÀKÀ'JÚ" is the story of a powerful lady, ÀJÀKÀ'JÚ, who is both human and an animal.
She bestrode the forest at night, making lives difficult for hunters, killing and maiming some of them. She destroys crops and cripple the economy of the town.
The king, Towobola went into the forest to confront ÀJÀKÀ'JÚ, after epic battle, the king and ÀJÀKÀ'JÚ reached a pact to marry each other with the hope that ÀJÀKÀ'JÚ would bear male children as all kids borne for the kings are females.
True to hope, ÀJÀKÀ'JÚ gave birth to a son but threw the boy, who is now the hope of continuation of the lineage of the king into fire.
The move led to twists and turns that made the plots of the movie entertaining, daring and suspense-filled.
ÀJÀKÀ'JÚ features notable actors such as:
Sola Sobowale
Bimbo Akintola
Odunlade adekola
Ibrahim chatta
Adedimeji lateef
Femi Adebayo
Faithia Balogun
Mercy Aigbe
Eniola Ajao
Peju ogunmola
Yinka Quadri and a whole lot of other great actors.
Beast of two words "ÀJÀKÀ'JÚ" was directed by highly respected directors, Adebayo Tijani and Odunlade Adekola and respected Cinematographer Idowu Adedapo, the man who shot Wedding Party, King of Boys (1), Chief Daddy, Dear Affy, Oloture, and many other notable movies.
According to Ajao, "I am not sparing anything to make this movie a hit and it will surely hit the cinema this December."
TY Moore Concept releases feature movie, DE RIN (Watch Here)
TY Moore Concept, producers of Iyawo Asiko, Atunse, Oluranwo and other blockbuster movies, has released its latest production, DE RIN.
DE RIN, a true life adaptation of a girl who rises up out of the ashes in spite of what people said; even when her closest person was her worst enemy and life dealt her blows after blows until A stranger became her angel 😇
The moving story will keep you glued to your screen with handkerchief in one hand and wanting to throw stones with the other hand.
It's a real life depiction of the Yoruba adage which says eni a ni ko fe ni loju, to f'ata se nu. It is simply unforgettable.
STARRING: Rykardo Agbor, Toyin Omoalausa, Allwell Ademola, Adebowale Adebola Seilat, Femi Obimodede, Peters Ijagbemi, Fola Imam, Whitney Jayeoba, Waheed Folarin, Oyindamola Omosenu, Monsuru Ijaitegbemi, Kayode Akindina, Famous Olukokun, Yemisi Ajose, Yikare Adebusayo, Ademola Adesoji, Olasunkanmi Oyedele, Aroyewun Hammed, Balikiss Junaid, Ojelade Adeniyi and lots more
PRODUCER
Toyin Moore
DIRECTOR
Seun Olaiya
EXECUTIVE PRODUCERS
Toyin Moore
Zezi Connects Ltd
DE RIN is now showing on Yorubaplay TV on YouTube. You can watch above or by clicking HERE.
Nollywood Actress, Ada Ameh, dies at 48
Nollywood actress Ada Ameh is dead, the popular character in The Johnsons died at 48 after years of struggling with mental health.
The actress died yesterday night, according to the President of the Actors Guild of Nigeria, Emeka Rollas.
The actress had few weeks ago, opened up about her mental health challenges after losing some family members.
Before 2020, the actress lost six of her siblings.
On October 20, 2020, she lost her only child, a beautiful daughter whom she gave birth to at age 14.
She started battling with ill-health and her condition deteriorated after losing another sister in March 2022.
Speaking in a Television programme, she had said: "Everything is going to be fine. I have an issue right now, and it's taking my life. I will not die. We will get over it."