Chacha Eke announces split from husband, Austin Faani
Nollywood actress, Chacha Eke has yet again, announced the dissolution of her marriage on social media, revealing that she's done pretending.
Sometime in October of 2020, Chacha had taken to social media to share a video announcing the end of her marriage to her movie director husband, Austin Faani
At the time, she said,
"You will say I am crazy but I am not. This video is to let the world know that I am done with the marriage. I don't have a lot to prove that I am done with him but I am done. I'm done. I am leaving with my life finally. I can't say a lot now. You will hear my story."
However, only some days later, she shared a different video from a hospital bed saying she had been diagnosed with "Bipolar disorder", while debunking allegations that her marriage ended due to domestic violence.
She later shared another video where she stated she was still with her husband and that she would not leave her marriage. She then also addressed her brother, IK Eke, alongside former actresses, Georgina Onuoha and Victoria Inyama for getting involved in her marriage issue.
Well, in a post she shared on Instagram on Monday night, June 27, Chacha apologized to the public for "living a lie."
She went on to state that she's done with her marriage as she wrote;
"NOW ALIVE OR LEAVE AS A CORPSE

Many have died pretending all is well whilst wishing, hoping and praying for a better tomorrow.

I don't want to "die" or go inexplicably "missing".

I sincerely and publicly apologize for living a lie these past years.True to random speculations, there has been trouble in my "perceived paradise".

For the 2nd time in 2years, I am here again on social media boldly declaring that I am done with my marriage. My long overdue/relentless stance on this is of course no news to Austin Faani, the doctors and my parents.

If push comes to shove & suddenly i am incommunicado; my lawyers, the welfare department and the Nigerian police force have my testimonials in recorded video clips/statements set for public release on all social media apps and national newspapers.

Ps: old photo.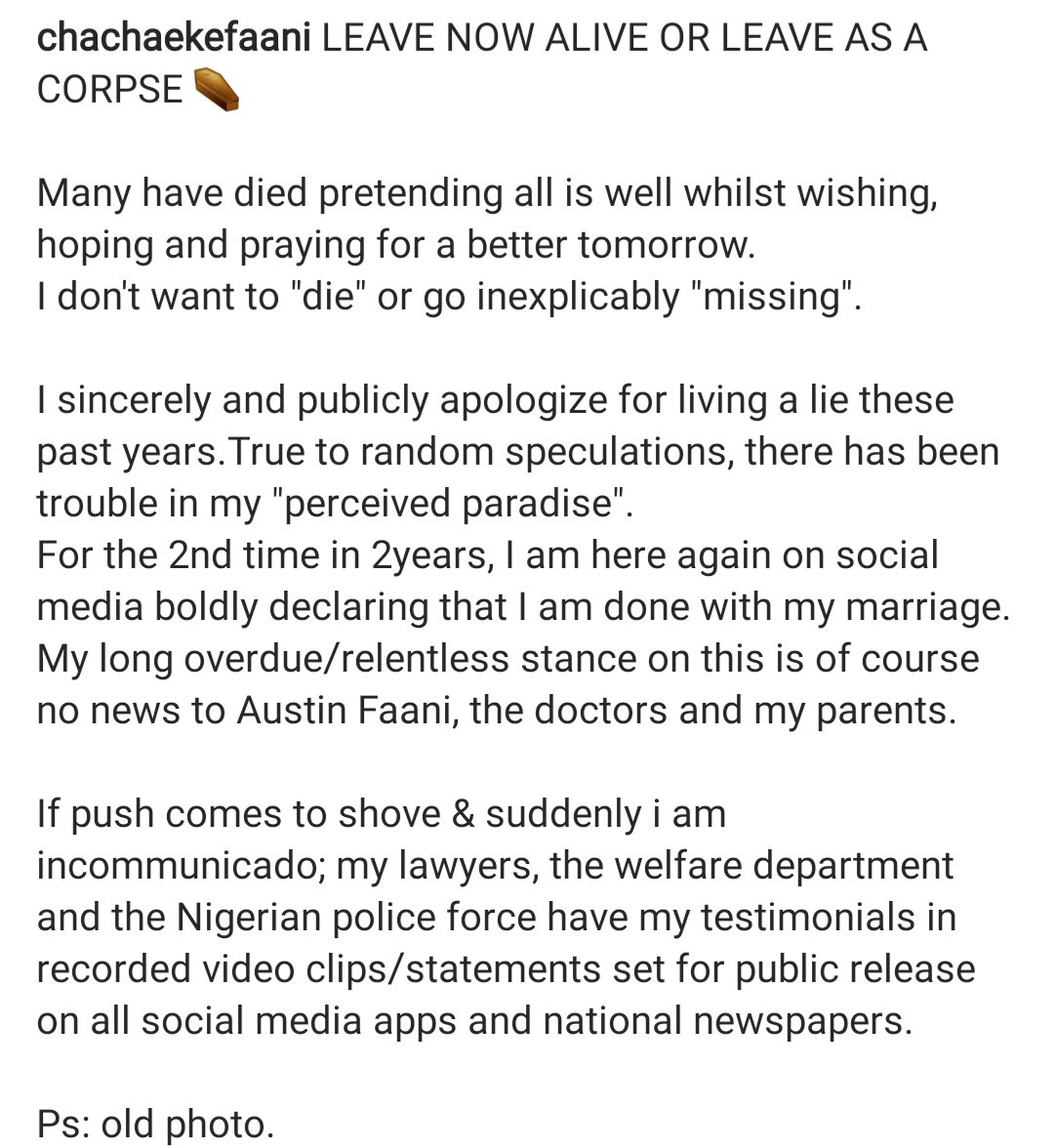 Mosun Filani blows hot, says she's about to lose it
Nollywood actress Mosun Filani Oduoye has hinted at causing havoc on social media.
The Yoruba actress, who always stays out of controversy, took to her Instagram page to vent out.
Mosun Filani noted how she doesn't look for trouble and is a peaceful person.
She added that she was about to loose her peace if the issue wasn't addressed.
"Everyone knows am a peaceful person and I don't go looking for trouble…. But pls can English tell us why there is letter D in Fridge and there is no letter D in refrigerator….. bcos am about to loose my peace.
Our English Teachers/Lecturers come and defend ur career o…cos am about to cause trouble".
Recall that Mosun Filani slammed those who didn't support her when she was getting bodyshammed for being fat.
The actress who now claimed to be slim took to social media with claims that people were saying that they preferred her chubby look than her slimness now.
Mosun Filani wrote:
"Flash back to this look. You all got used to my fat/chubby looks. Give it time, u will also get used to my trimmed looks again. You all didn't use this same energy to always come to my defense "all those times I was being called fat and shapeless….. Now that I shocked u with my slim looks. Now you are quick to say we prefer ur chubby looks.
Chubby looks koor…. Orobo looks nii.
Awon alabosiaun gbogbo. You all are not ready walahi
If I hear pim…. Ijoba blocking".
Rita Dominic allegedly debunks reports she gave birth to twins
Veteran Nollywood actress, Rita Dominic, has debunked reports that she welcomed a set of twins with her husband.
Reports made the rounds on Wednesday that the Nollywood star who tied the knot with her husband, Fidelis Anosike, a few months ago, welcomed a set of twins.
Reacting to the report, many social media users trooped to the actress' social media pages to express their immense joy and congratulate the couple.
However, in an apparent reaction, Rita Dominic took to her official Twitter handle to affirm that the claim was false.
Taking to her Twitter handle on Wednesday night, she shared a GIF displaying a surprised look while reading through a publication with the headline, "FAKE NEWS."
See her post below,
— Rita Dominic (@ritaUdominic) September 21, 2022
Lancelot Imaseun makes powerful cinema return with Gbege
The audacious movie producer and actor, Lancelot Oduwa Imasuen, has made a big comeback to the cinema with the release of Gbege.
Known for his love for cultural preservation and projection in his works, Imaseun was able to creatively infuse tradition in his new film that would be released on October 7, 2022 in cinemas near you.
Gbege is a story of a troubled man, whose father died while he's serving a life imprisonment. All he wants is a chance of release to perform his father's burial rite, but the law is no respecter of tradition.
According to the award winning producer and master storyteller, the twists in the storyline are so captivating, moviegoers are assured a worthy time at the cinemas.
Gbege parades some top Nigerian thespians like Jide Kosoko, Ebele Okaro, Sam Dede, Mercy Aigbe and Ini Edo.
Others include Zubby, Sanni Muaizu, Charles Inojie, Harry B, Broda Shaggi, Nosa Rex, Junior Pope, Angela Equeavoen and so on.
Imaseun, who also doubles as a director, has worked in the film industry since 1995 and his films feature unexplored aspects of the African experience including tribalism, witchcraft, crime, poverty, religion, and folk beliefs.
In 2008 a Canadian documentary Nollywood Babylon co-directed by Ben Addelman and Samir Mallal, and produced by AM Pictures and the National Film Board of Canada in association with the Documentary Channel, followed Imasuen while he was shooting his 157th film Bent Arrows.