Tiger to Auction Pro Gear from Red Star Pictures
Tiger Group is gearing up to auction surplus equipment from Red Star Pictures, a longstanding supplier of rental lighting, grip and production equipment to the entertainment and live event industry.
The June 2 online auction will feature gear surplus to the ongoing operations of Red Star and will include digital and film cameras, lenses, lighting, grip, electric, filters, and AV accessories. Equipment will be offered in more than 450 lots from top manufacturers including Arri, Black Magic, Canon, Moviecam, Panasonic, Rokinon Tiffen, Xeen, and Sony.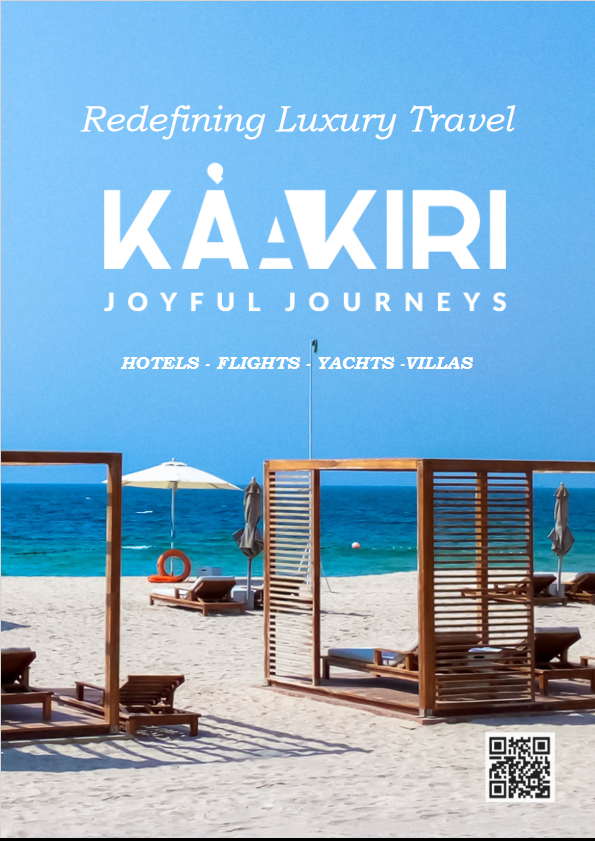 Specifically, over 50 digital and movie cameras from Arri Alexa, Canon and Panasonic, as well as a large quantity of LED lighting from Arri, Kino and LTM will be up for bid. A variety of camera accessories, and grip and electric gear will be offered as well.
"We are extremely pleased to have been selected by Red Star Pictures to assist in managing their surplus gear," said Jonathan Holiday, director of business development, Tiger Commercial & Industrial. "Red Star has enjoyed exponential growth in building its rental business through acquisitions over the past five years and by offering a high level of service to all its valued customers in the industry. This sale offers an excellent mix of gear and a great opportunity to purchase from a well-established, quality rental company."
Nollywood production house Nemsia Films announces the first commissioned slate deal with Amazon Prime Video
Nollywood production house Nemsia Films has closed the first exclusive slate deal for three commissioned feature films with Amazon Prime Video, having already produced a successful repertoire of world-class content such as God Calling, Before 30, and Journey of an African Colony.
"We are very excited to collaborate with Nemsia Films on this pioneering slate deal, which will complement our growing lineup of local Nollywood content for Prime Video customers," said Ayanna Lonian, director of Content Acquisition and head of Worldwide Major Studio Licensing Strategy, Prime Video. "This slate deal supports our goal to showcase Nollywood at its best, by telling authentic homegrown stories in a range of genres to Prime Video customers around the world."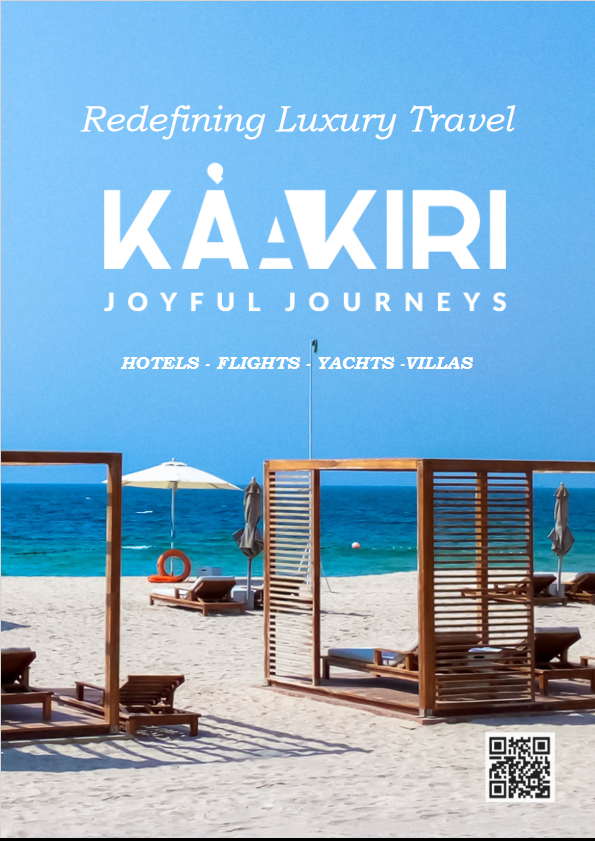 "At Nemsia Films, it is our belief in 'no gravity for the mind' that has led us to work with Prime Video, one of the leading streaming services worldwide, capable of delivering our stories further than we ever imagined," said Derin Adeyokunnu, co-founder of Nemsia Films. "We are tremendously excited about the collaboration and what the future holds for Nollywood."
Nemsia films was co-founded by Derin Adeyokunnu and BB Sasore, with a strong belief in its ethos – "no gravity for the mind" – which, in addition to their major accomplishments, has seen them become a hub for developing young and emerging talent across every facet of Nollywood. Nemsia creates visuals that have pushed the envelope in African storytelling, from concept to delivery, with the entire production chain, including top-end visual effects and post-production, sitting in-house. Adeyokunnu serves as managing partner and executive producer and Sasore is the creative director, writer, and director of most of their work.
The first feature in this deal will be Breath of Life, written and directed by BB Sasore and produced by Eku Edewor. Breath of Life tells an inspirational story about life and destiny where one must live to fulfill their purpose and cannot die until this is done. The other two films to come from the deal will be announced later this year.
About Prime Video
Prime Video offers customers thousands of popular movies and TV shows, including Amazon Original Series such as The Boys, The Wheel of Time, The Marvelous Mrs. Maisel, The Grand Tour and the upcoming highly anticipated series The Lord of the Rings: The Rings of Power, as well as critically acclaimed Amazon Original movies like Coming 2 America, The Tomorrow War, and exclusive Nollywood movies such as Superstar, Progressive Tailors Club, Bad Comments, Badamasi and much more.
Along with Nemsia's commissioning deal, Prime Video has previously announced exclusive licensing agreements with leading Nigerian production studios, including Inkblot Studios and Anthill Studios, which highlights a commitment by Prime Video to deliver Nigerian and African film to a global audience of more than 200 million Prime members.
Customers can stream or download and enjoy anytime, anywhere via the Prime Video app on mobile, tablet, Smart TVs, game consoles, or online at PrimeVideo.com. All available to watch as part of a Prime Video membership, which is available in more than 240 countries and territories worldwide.
COVID-19 Rules Violation: Court Throws Out Suit Challenging Funke Akindele Others' Conviction
The Federal High Court in Lagos has struck out a suit seeking to set aside the conviction of popular Nollywood actress, Funke Akindele, her husband, Abdulrasheed Bello popularly known as JJC Skillz and 236 others, who were prosecuted for violating the state's lockdown in 2020.
Justice Akintayo Aluko held that the suit disclosed no reasonable cause of action and was also incompetent.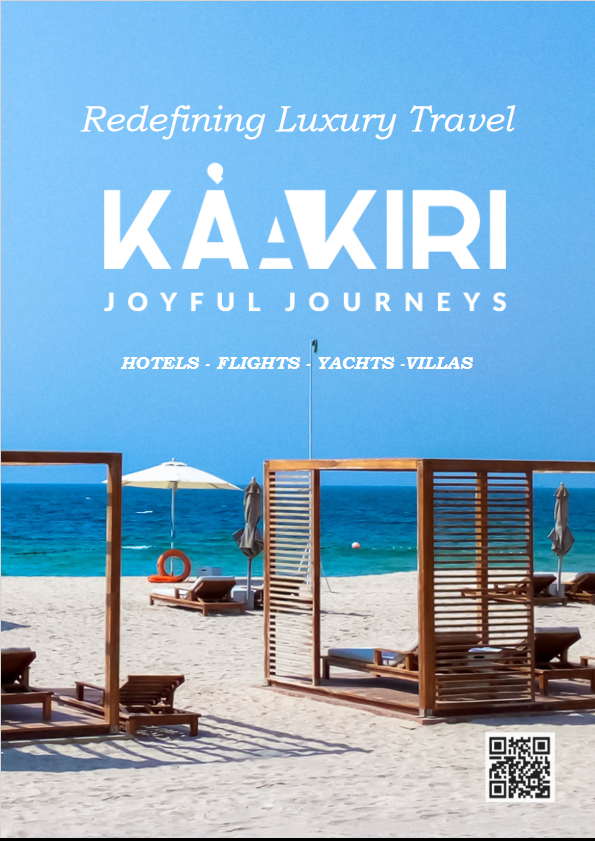 Akindele and her husband were convicted on April 6, 2020, by the Lagos State Magistrates' Court in Ogba, days after they held a crowded house birthday party contrary to Lagos State's social distancing order.
But a Lagos-based lawyer, Olukoya Ogungbeje, approached the court, challenging the constitutionality of the Lagos State Infectious Diseases (Emergency Prevention) Regulations 2020 pursuant to which Akindele, her husband, and 236 other residents were convicted and sentenced.
Joint respondents in the suit are the Lagos State Government, Attorney-General of Lagos State, Commissioner of Police, Lagos State and the Inspector-General of Police.
Ogungbeje also sought, among others, an order compelling the Respondents jointly and severally to tender a public apology in three widely read newspaper publications to other persons/Nigerians arrested, arraigned, tried, convicted and sentenced.
But the Lagos State Government and the AG opposed the move through their counsel, a Deputy Director, Lagos State Ministry of Justice, Mr. Adebayo Haroun.
They filed a notice of preliminary objection against the suit on July 10, 2020.
According to them, Section 8 of the Quarantine Act, 2004 allows the governor to make the regulations where the President of Nigeria had not made such regulations.
They contended that the Regulation was made for public safety, public good, and protection which is larger and far greater than that of an individual such as the Applicant.
In his judgment delivered on June 2, 2022, a copy of which was obtained by Channels Television's judiciary correspondent, Shola Soyele on Friday, the court agreed in part with the government.
Justice Aluko observed that the regulations disclosed in its preamble that the governor made the regulations by virtue of the powers conferred on him by the Lagos State Public Health Law of Lagos State, 2015 and in particular section 8 of the Quarantine Act and that Sections 8 provides that if regulations under section 4 of the Act was not made by the President, power to make such regulations may be exercised by the governor in respect of his state.
The judge held: "This means that the regulations made by the governor on the 27/3/2020 is valid within the context of section 8 of the Quarantine Act having been made at a time when the president had not made his own regulations. The Lagos State Infectious Disease (Emergency Prevention) Regulations, 2020 is therefore subsidiary legislation validly made pursuant to section 8 of the Quarantine Act.
"Contrary to the argument of the Applicant, section 17 of the Regulations actually created certain offences ranging from failure to comply with a restriction order, prohibition, or doing anything contrary to the provisions of the Regulations.
Section 17 (2) of the Regulations provides that any person who contravenes the provisions of the Regulations shall be liable under the Quarantine Act, Public Health Law of the State, and any other existing law to fine or imprisonment or both in accordance with the extant laws.
"It is of note that section 5 of the Quarantine Act provides for penalties or punishment against any person who contravenes provisions of the regulations made under the Act."
While commending Ogungbeje for "seeking to protect citizens' rights from violations", the judge noted that the suit had "no support of the law." Justice Aluko added: "In total, I hold that this suit has disclosed no reasonable cause of action against the Respondents.
Top Gun's Return Sparks Another Adrenaline Rush
On May 16, 1986, America was introduced to a film that looked and sounded very different than anything before. "Top Gun," an action-drama film about fighter pilots training at the U.S. Navy's Fighter Weapons School, was a new kind of American war movie that started a trend of heroic military blockbusters that continues today. The movie also solidified Tom Cruise as a superstar, grossing more than $356 million at the box office.
How did "Top Gun" change movie making, and why does it continue to be relevant 36 years later? To address those questions and much more, the Georgia Tech community reflects on the film and its legacy on the eve of its long-awaited sequel — "Top Gun: Maverick."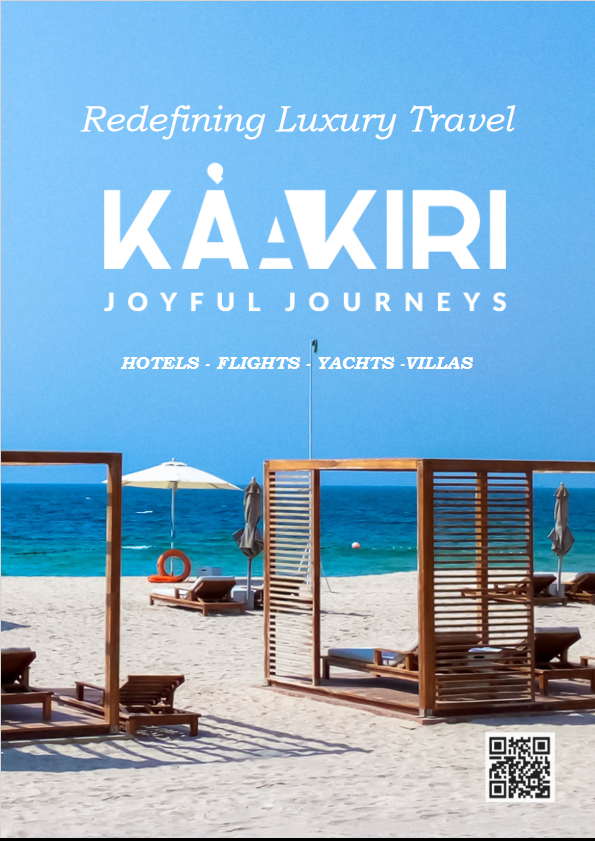 A film studies professor discusses that rebirth of military movies, as well as a memorable soundtrack. Three recent ROTC graduates prepare for their own flight school experience. And a current faculty member remembers his days in the real TOPGUN, where he helped Hollywood create a classic.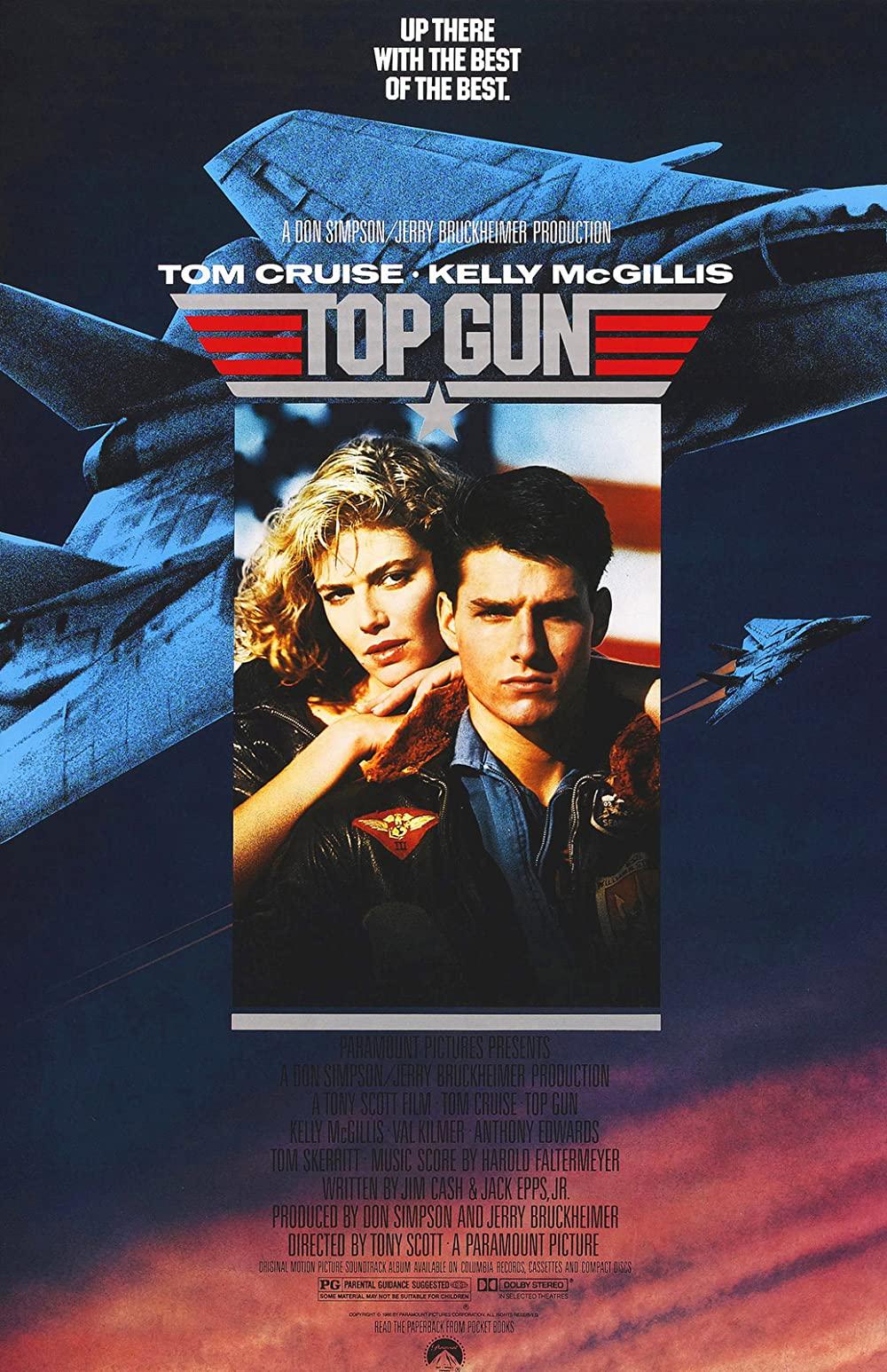 Original 1986 movie poster
A Real-Life Maverick
In many ways, James A. "Sandy" Winnefeld lived the life that Cruise's character, Maverick, portrayed on the big screen. Shortly after commencement, the 1978 Georgia Tech aerospace engineering graduate spent three years flying F-14s for his fleet squadron, acquiring the call sign "JAWs" (his initials). He and his radar intercept officer (RIO) were then selected to represent their squadron and train at the Navy's Strike Fighter Tactics Instructor Course – better known as TOPGUN — at San Diego's Naval Air Station Miramar in 1982. The five-week program allowed Winnefeld to learn from America's best Navy fighter pilots. Upon completion, he returned to his squadron and shared the knowledge with his peers.
After completing his first fleet tour, Winnefeld was asked to return to TOPGUN as an instructor, training other pilots from 1984-1987.
"The culture of that little squadron of elite instructors was some of the best I've ever been around," Winnefeld said. "We were not going to let each other down. We were always going to be as professional as we could be. We worked extremely hard, but, at the same time, we managed to have fun too."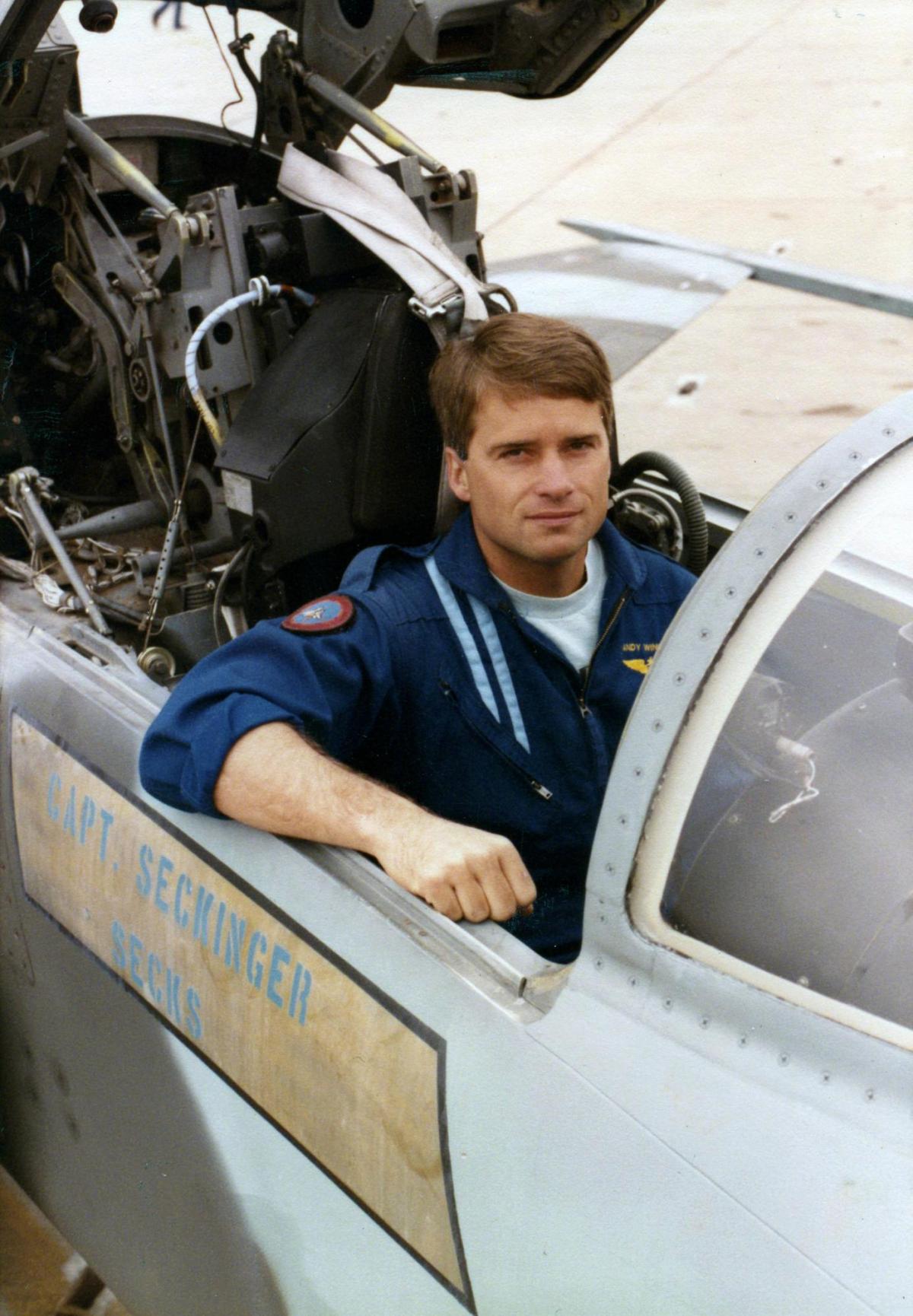 James "JAWs" Winnefeld sitting in his F-14 at TOPGUN.
During the middle of Winnefeld's tenure as a TOPGUN instructor, Paramount Pictures began production of "Top Gun." Suddenly, people from Hollywood began visiting the air station for research. Some of the instructors were asked to help refine the screenplay to make it as realistic as possible.
"I went to a bar with Tom Cruise, but I didn't even know who he was," Winnefeld remembered. "But women kept coming up to him. It was an interesting experience because the actors really wanted to study who we were, and what we were like, in order to portray us as best they could."
Once filming started, Winnefeld and the other TOPGUN instructors flew the F-14s, F-4s, and F-5s seen in the movie. He said flying for the film was nowhere as intense as real combat training, therefore, his favorite part of being on set was watching scenes filmed on the ground. He was amazed by how much attention to detail goes into making a movie.
"Watching the crew make a movie on the ground was fascinating," Winnefeld said. "They spared no expense to capture as much realism as they could. But some things didn't make sense to us at the time. For example, they shot a classroom scene in a hangar with an airplane in the background. Some of the instructors and I were sitting there thinking, 'This is nuts! A class would never be held out here!' But then we saw the movie and realized these people were brilliant. They knew how to dramatize a classroom."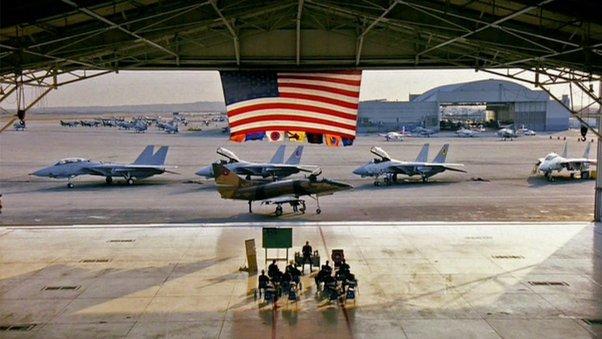 Credit: Paramount Pictures
"'This is nuts! A class would never be held out here!' But then we saw the movie and realized these people were brilliant."
James A. "Sandy" Winnefeld on seeing a fighter jet staged outside a "Top Gun" classroom.
Although Winnefeld feels that the movie captures TOPGUN very well, he says there are some things a movie can't effectively simulate, such as the intensity of air combat on a pilot's physiology.
One scene was very familiar to Winnefeld: ejecting from an F-14 because of engine failure. In the film, Maverick gets in a flat spin and is headed out to sea, where he ejects, a move that kills his RIO, Goose.
In Winnefeld's real-life situation, he was already flying out at sea when his plane experienced engine failure and entered a flat spin. To make matters worse, it was at night above a very rough Pacific Ocean.
Winnefeld ejected at 10,000 feet and splashed into frigid, 20-foot seas. He sat in his raft for 45 minutes until rescued by helicopter. He was soon told his RIO was safe, despite being blown three or four miles away because of strong winds.
"It was just another day in the life of a naval aviator," Winnefeld said. "Our training is so good. Everything you do is instinctive, and it all worked, so I'm here to talk about it."
Winnefeld would later become a naval commander, eventually serving as the Vice Chairman of the Joint Chiefs of Staff until he retired in 2015. He is now a distinguished professor of the practice in the Sam Nunn School of International Affairs in Georgia Tech's Ivan Allen College of Liberal Arts and was recently appointed by President Biden to the White House Intelligence Advisory Board.

The Cultural Impact
Ida Yoshinaga is an assistant professor and film scholar in the Georgia Tech's School of Literature, Media, and Communication. According to Yoshinaga, "Top Gun" marked a trend of heroic American military films, energized with a new language of action, blockbuster cinema. She says war films have been around since the beginning of American cinema. However, the genre had become increasingly critical of war by the 1960s and 70s.
"Suddenly, 'Top Gun' made war and the U.S. military look cool again," Yoshinaga said. "The film made war okay and didn't question America's military agenda. In fact, 'Top Gun' started a trend of movie producers working closely with the Pentagon. These, of course, are unofficial deals where the film producers let military officials sign-off on scripts and story details in exchange for the use of military assets/equipment in their movies."
Yoshinaga says another key component of the original film is its time period. Commercials and music videos were evolving in the mid 1980s. Director Tony Scott came from an advertising background and brought a new commercial sensibility and style to the movie.
"In the mid-1980s, we started to see movie soundtracks being something very significant and very commercial," Yoshinaga said. "When I think about 'Top Gun', I remember the hit recordings 'Danger Zone' and 'Take My Breath Away.' I think about the famous music-video-style scenes, including the beach volleyball match. I enjoy the movie on these levels because of that then-surprising, gendered gaze in what could've be an uncritical moment of escapism."
Michelle Collier remembers that volleyball scene as well. The head coach of Georgia Tech's volleyball team grew up in Brazil and didn't see the movie until she was in college in Florida. She recalls seeing it with her volleyball teammates in 1998.
"That was one of our favorite movies, and we did Tom Cruise's volleyball high five at all our matches," said Collier. "I think it really exposed the game, and it's pretty cool to have the sport represented in such an iconic movie."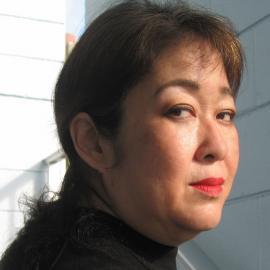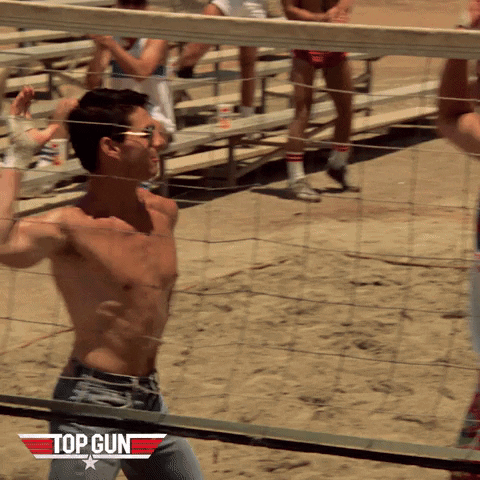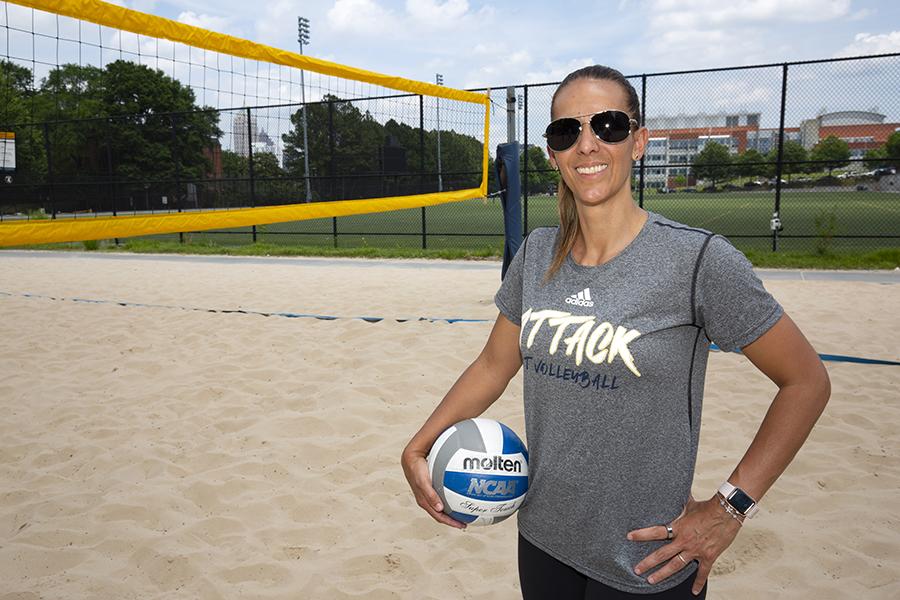 Volleyball Head Coach Michelle Collier at Georgia Tech's sand volleyball courts.
The Recruitment Impact
Many naval aviators have been inspired by "Top Gun" to some degree. That includes a trio of 2022 engineering graduates who served in Georgia Tech's ROTC program. Industrial engineer Aidan Perras and mechanical engineers William Stearns and Courtney Williams will enter Navy Flight School in Pensacola, FL, this summer to become pilots.
"Top Gun" is one of Stearns' favorite movies. He remembers watching it with his dad at a very young age.
"I saw the extent to which the TOPGUN community challenged everyone within it and how they pushed each other to be the best that they could be," Stearns said. "That seemed like something that interested me for a career."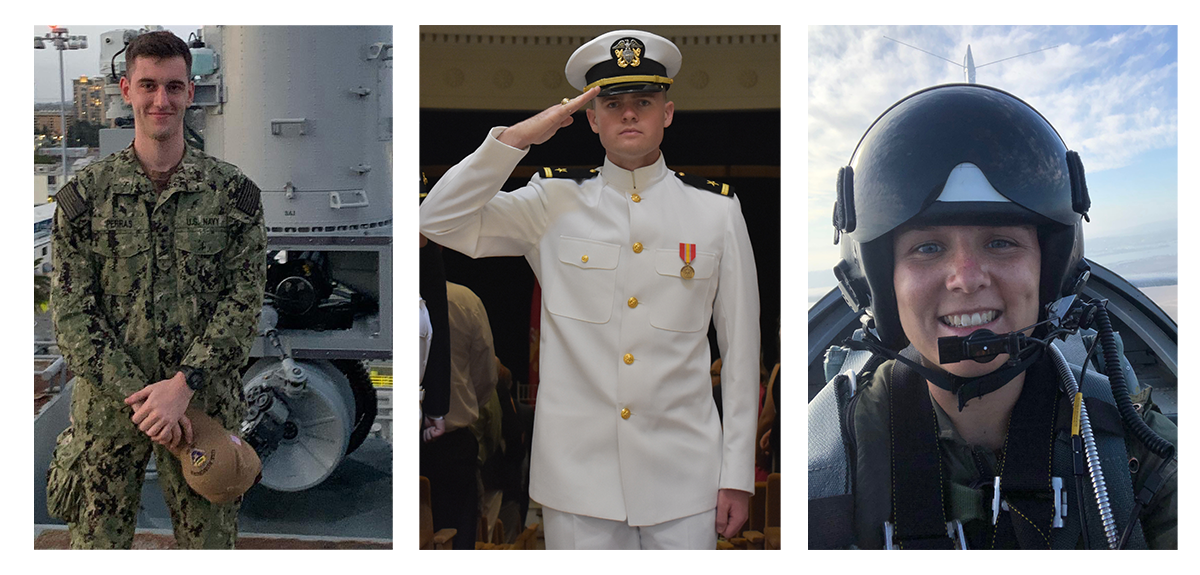 Spring engineering graduates (left to right) Aidan Perras, William Stearns, and Courtney Williams will enroll at Navy Flight School this summer.
Perras also said he was fascinated with the team culture portrayed in the movie.
"I grew up watching a lot of aviation videos on YouTube,"  Perras said. "That's where I would watch examples of fighters flying around. But you really don't see the community aspects in those YouTube videos. I realize 'Top Gun' is just a movie and those aren't real aviators on screen, but it still gives you an idea of what the TOPGUN community is like and how they work together."
Williams admits there are a few scenes from the movie that seem a little cheesy today. But she says you must watch it if you're going to be a Navy pilot.
"I think the new movie is going to be a huge hit," Williams said. "It might be more nostalgic for the older generation, and they'll probably want to see it the most. But I think younger folks will see it as well, and it might get more people interested in naval aviation."

The Adrenaline Zone
Winnefeld recalls the adrenaline rush from his fighter pilot days. His blood would pump fast while landing his F-14 on a moving aircraft carrier in the complete darkness of a cloudy night. He also recalls the same feeling at times later in his career while making decisions as commander of an aircraft carrier or briefing the president on special operations.
Winnefeld's latest project, "The Adrenaline Zone," is a podcast that interviews people who have taken physical, financial, emotional, or reputational risks. And with those risks comes plenty of adrenaline. He and co-host Sandy Magnus, a professor of the practice and graduate of the School of Materials Science and Engineering, have already featured an adrenaline-fueled jet pilot, race car driver, and country music star Tim McGraw.
What exactly is adrenaline and how does it play a factor in decision-making and performance?
According to Scott Moffat, associate professor in College of Sciences' School of Psychology, an adrenaline rush is a state of high arousal and high anxiety triggered by something that the brain evaluates as dangerous. Two processes occur in response to that arousal. The first is the adrenaline hormone releasing from a particular part of the adrenal gland called the adrenal medulla. This hormone is released into the bloodstream and causes increased heart rate and higher glucose consumption – it gets your body ready for the state of high arousal.
"Depending on the situation, some people will label this state of high arousal as being fearful or anxiety-provoking, or even panicking," Moffat said. "However, some people almost enjoy it and thrive under these conditions."
The second response, Moffat explains, is often described as the stress response. It's a slower response that also comes from the adrenal gland in the release of a hormone called cortisol. Its goal is to reduce the response of the immune system to prepare one's body for energy utilization.
Moffat says that people respond to an adrenaline rush in different ways.
"The people who thrive under an adrenaline rush can see their performance enhance when accomplishing a task, especially if they're an expert in that task," Moffat said. "But the adrenaline rush will have the opposite effect for those who find the conditions more stressful, potentially causing them to enter a state of panic."
Winnefeld found an adrenaline rush to be mostly useful in the cockpit.
"If channeled properly by a calm mind, adrenaline can really help a person focus intently on a problem," Winnefeld said. "When landing on the ship, I would tell myself to get into a heightened state of complete concentration for the next five minutes. You must calm yourself down because getting stressed out can quickly lead to failure."
Winnefeld has high expectations for the new "Top Gun: Maverick" film that will begin its theatrical run on May 27th.
"I've heard terrific things about the film from those who have previewed it, and look forward to seeing it in a theater at the earliest opportunity," Winnefeld said.